Many property owners would rather settle for a complacent property management company than deal with a transition gone wrong. The thought of losing historical knowledge built over many years makes it seem impossible to consider making a switch. However, when you choose an experienced property management company with a team of proactive professionals, making the switch is straightforward. The truth is, in a highly competitive market, the cost of a poorly managed building is too high to ignore.
---
Is it time to switch to a proactive property management firm?
Contact Us Today!
---
"It's a lot of work to switch property management companies"
The idea that switching management companies will be a long, arduous process where you may potentially lose a great deal of historical knowledge is simply not true. While information on the physical idiosyncrasies of the property, maintenance and operating history, and system specs seem critical, a well-seasoned management firm will know exactly how to acquire all of the relevant details from an outgoing company. In fact, the process of switching management companies takes a matter of a couple weeks.
An experienced property management company has a well defined transition process, especially when it comes to maintaining relationships. All vendors and contractors are notified of the change in management, with in-person meeting scheduled to discuss any ongoing projects. Utility accounts are given advance notice in order to prevent any lapse in service. Tenant relationship management will kick off with a welcome letter containing pertinent contact information and details on any changes to payment processes.
Perhaps the most worrisome to property owners is the transfer of maintenance records and confidential banking information. Again, experienced professionals know exactly what to do. Trimark Property Management has cross-divisional experience and in-house resources for maintenance and repair. That experience translates into knowing exactly what questions to ask and what precautions to take with sensitive information. Our maintenance and accounting teams will gather and standardize information for future use in a matter of weeks.
"My current property management company isn't that bad."
It's easy to get comfortable with the status quo, but how much is it costing your business? Many property management firms lack owner mindset and the result ranges from not completing tasks to total incompetence.
---

"Knowing how to respond to unique situations puts our clients at ease. Last year, we dealt with a car crashing into the lobby of one of our properties. Luckily, no one was hurt but there was a lot that needed to be done, and quickly. Our client was relieved and amazed to know that our team knew exactly how to handle the accident."
~ Nadia Rassas, Vice President, Commercial
---
Consider a lack of or incomplete reporting that can severely hurt a property's ability to maintain budgets and increase profitability. Effective property management goes well beyond maintenance and rent collection. Timely and relevant reports enable the kinds of decisions that keep a property viable. In the Northern Virginia, Maryland and Washington, DC markets, insightful reporting gives properties an advantage in a fiercely competitive market.
Does your building seem to be a revolving door when it comes to tenants? In addition to maintaining a healthy occupancy rate, a proactive property management company knows exactly how to increase your tenant retention. Our experienced property managers know how to tighten up the rent collection process and facilitate an easy payment process for tenants.
Complacency can make a dramatic impact on your property and business. While less than ideal response times from your management firm may not immediately raise red flags, over time it leads to overarching problems and an erosion of trust. In the case of an emergency, the last thing you want is an unresponsive management team.
"I don't know how to vet potential new management companies."
There are a handful of qualities to look for in a property management company. First and foremost, look for a management company that proactively engages with all stakeholders and handles issues before they become critical.
---
Ten Questions to Ask Your New Property Management Company
How quickly do you respond to inquiries?
How often will you be on-site at the property?
How will you handle emergencies?
Do you have experience with similar properties?
Do you have experience with maintenance and repairs?
How (and how quickly) do you fill vacancies?
What kind of record keeping and accounting can you provide?
Are you on call 24/7/365?
How do you manage tenant relationships?
Are you familiar with local governance laws pertaining to my property?
---
Secondly, look for a firm that has a strong foundation in timely, accurate accounting and financials. Your management firm's ability to provide guidance on important decisions is key. You need on-demand reports and the ability to customize reports based on your specific needs.
Practice makes perfect and an experienced management team can handle day-to-day operations as well as emergencies. It's always a good idea to make sure your property management company is accredited through national organizations like the Institute of Real Estate Management (IREM) and has managed properties similar to yours.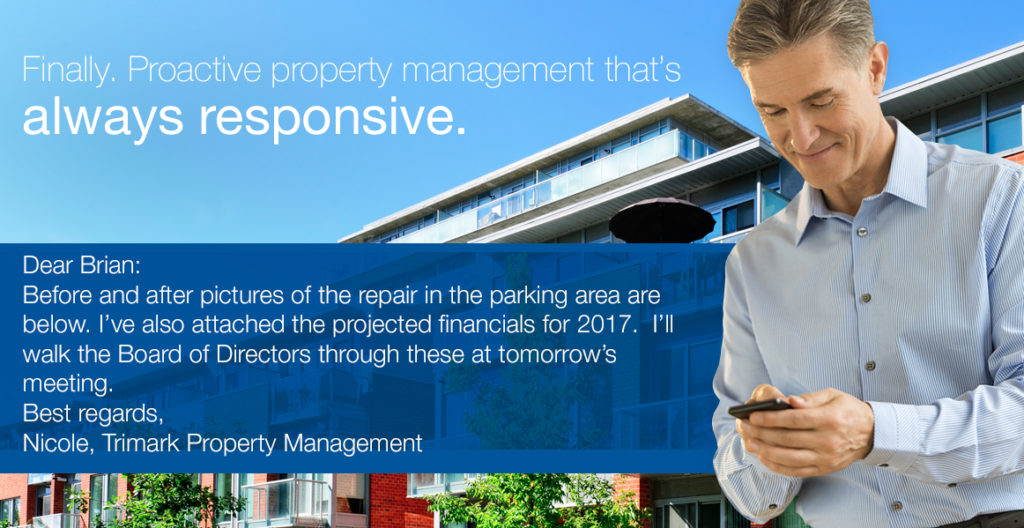 When switching property management firms can be handled efficiently and painlessly, and you know the cost of a poorly managed building is too high to bear, it's time to start considering an alternative. Trimark Property Management has decades of experience managing a variety of facility size and types. Our highly responsive team of experts delivers hands-on attention, giving clients confidence that their property is being properly cared for.
Contact us today at 703.891.2600 or info@trimarkpm.com.